Tweet
I know that this post is a little too late, I should be posted this 2 weeks before Christmas and because a lot of offline task and parties that I attend I haven't been able to finish composing this one although this post is already on my draft, and it is only one day to go till Christmas.
I had this five top list on my mind of gift ideas that we can give to our children or godchild:
5. Board Game - there is a lot of cheap and yet educational to play board games that can be bought at National Bookstore. One of this is scrabble which never get outdated to play and could enjoy your child with his/her playmates. I find it easy to wrap this gift and it costs only Php 200.00 to Php 300.00 or less than $7.
4. Wacky Worm - I find these toy really amusing as I seen it in Clipper, These worms looks alive and really crawling on your hands. I can't find these worms creepy because of its cute neon color which can attract child's eye and it is affordable too for only Php 100.00 or less than $3, this is also the one that we give for the exchange gift at my son's Christmas party.
3. Metal Puzzles - These toys are for ages 9 to 10 years old but can play also by adults. It is very cheap and can tickles anyone brains by solving the puzzle for only Php 25.00 or less than $1, can be bought at National Bookstore.
2. Magic Tricks Card - Which can be bought also in very affordable prize of Php 100.00, these can make your child busy practicing his tricks and make his playmates amaze with the tricks.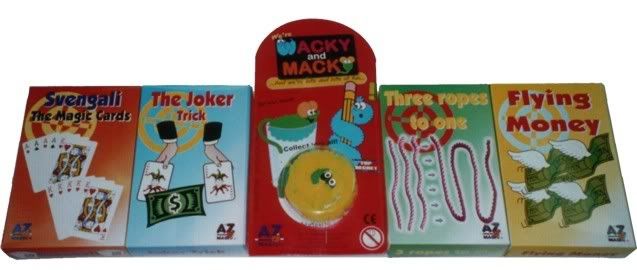 1. Books - Although you might consider first if a child is a book lover or not but better give a book preferably on his interest age like having a cartographic one or colorful with a lively drawing or picture on it.
Note: All of these gifts ideas can enjoy by both boys and girls.