Tweet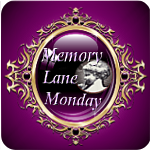 For this post I want to thank Mel for inviting me to join their meme another community to help and gain some readers from other bloggers; one of the best link building also.
I will just copy paste what Mel have guidelines about this meme, since it was only just starting:
Every Monday, there will be a theme in this Meme, it's all up to you to make a post with the theme or not. It's not Mandatory.
1) Make sure to have at least one picture inside your post. This is Mandatory.
2) Include the Meme name "Memory Lane Monday" anywhere in your post "Title" and "Tags". Also include the badge inside your post. Just be creative. You can also add a number beside the title for proper categorizing your post archives.
3) Tell us something memorable about the image or why it made you revisit the past. It's all up to you if you want to talk about ups and downs it brought to your life. However, pleasant stories will get your readers inspired. Make 5 sentences of 60 words at least in your post.
4) Make sure to visit and leave comments, either sympathy or encouragement or compliments to each of the participants who joined this meme. This Meme will start Monday EST and will be closed in 3 days after which is a Wednesday EST. That way, we all have enough time to visit and comment everyone who joined.
If you have any suggestions for the success of this meme, feel free to tell me about it along with your comment in this post. Thank you!
So here's my share:
I love this picture of us as a family, this is taken at the Cabanatuan Starbugs Photography Studio and the camera girl is so nice with us; having my son got some tantrums to pose in-front of camera and finally started to enjoy his modelling career to be lol.
I didn't know how to do a wacky shots so I just show my tongue with a peace sign and never knew that my two man are also doing the same. At the end of the photo shoot we are all happy and eat at the near mall MegaCenter, though we may experience some bad mood on that day at-least it went to a happy ending too.
My share to Memory Lane Monday!